BLOODY MILK (Petit Paysan)
L.A. Premiere | France | 2017 | Drama | 90 min |  In French with English subtitles
Directed by: Hubert Charuel
Written by: Claude Le Pape, Hubert Charuel
Cinematography: Sébastien Goepfert
Film Editing: Julie Léna, Lilian Corbeille, Grégoire Pontécaille
Original Score: Quentin Lepoutre a.k.a. Myd
Produced by: Stéphanie Bermann, Alexis Dulguerian (Domino Films), France 2 Cinéma
Cast: Swann Arlaud (Pierre Chavanges), Sara Giraudeau (Pascale Chavanges), Bouli Lanners (Jamy), Isabelle Candelier (the mother), Valentin Lespinasse (Jean Denis)
International Sales: Pyramide International
First-time helmer Hubert Charuel weaves a compelling, unconventional rural thriller out of the tale of a taciturn farmer and his cows. Swann Arlaud delivers a riveting performance as Pierre, whose quiet, repetitive life revolves around meticulously caring for the dairy farm he's taken over from his parents. He calls each cow by name, lovingly delivers their calves with his own hands and even invites one of them to share his home. They occupy every inch of his psyche and his life… Until a deadly bovine epidemic rears its ugly head and strikes one of his own. With a suspicious veterinarian sister breathing down his neck, Pierre calculates his every move, but will stop at nothing to conceal the truth and hold onto his herd. Seething with suspense and heart-felt tragedy, Bloody Milk is an astute, understated tale told simply and with great eloquence. It premiered as part of the International Critics' Week at the 2017 Cannes Film Festival. It was nominated for eight Cesars and won three of them: Best Actor (Swann Arlaud), Best Supporting Actress (Sara Giraudeau) and Best First Feature.
Hubert Charuel makes his directorial debut with Bloody Milk, which was shot on his parents' dairy farm in the Haute-Marne and depicts a life that might have been his own. He recalls growing up during the mad cow and hoof-and-mouth disease epidemics and knows the anguish of those periods first-hand. Instead of taking over the family farm, Charuel chose to study at the prestigious La Fémis film school, in Paris, graduating in 2011. Since then, he's directed and co-written three short films with longtime collaborator Claude Le Pape, who also contributed to this film's screenplay.
Presented in Association with: Pyramide International
COLCOA Series: French NeWave 2.0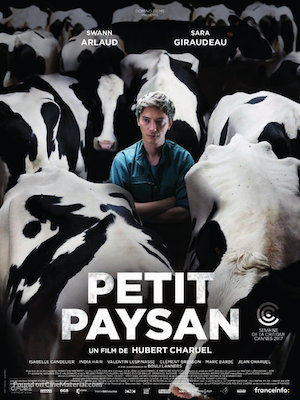 In Association with