FREE SCREENINGS AND EVENTS
There are many opportunities to see French films and series or attend events for free at COLCOA. Here is a list of complimentary screenings and events offered in 2019.
No reservation is needed for free screenings or events. No ticket is delivered.
Admission is on a first come, first serve basis.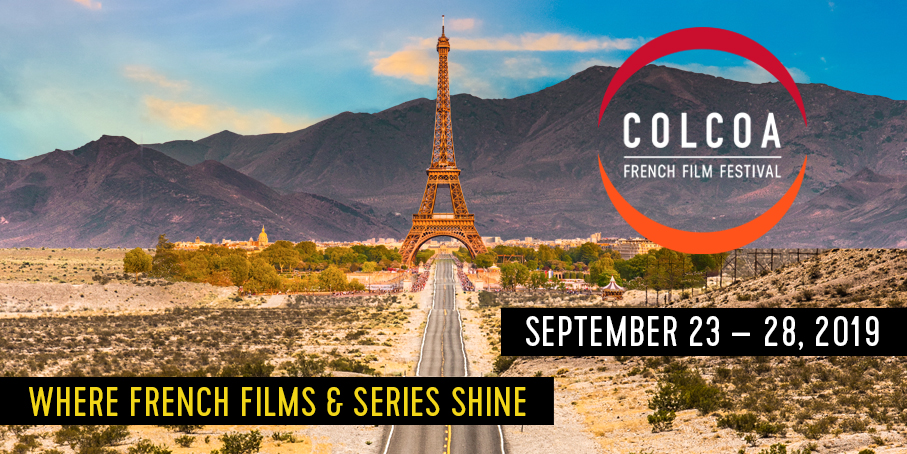 BLIND DATE WITH A NEW FRENCH FILM (September 24)
The COLCOA Cinema program will start on Tuesday September 24 at 11:00 am (Truffaut Theatre) with a free presentation of one of the films in competition. Film chosen won't be revealed before the screening starts… Don't miss your Blind Date with new French cinema!
(If you already bought tickets for the film, we will exchange them for another one)
MYSTERY CLOSING FILM (September 28)
New in 2019: End your journey at COLCOA with this special presentation of a highly anticipated new French film on Saturday September 28 at 10:30 pm (Truffaut Theatre). On the contrary of the Blind Date, this film will be added to the competition. This is just the Cherry on the Cake for our audiences. The buzz will start this day, be part of it! Click here for detail info.
COLCOA TELEVISION COMPETITION (September 24-28)
Series in competition for the COLCOA TELEVISION Awards and a TV documentary are shown for free on loop in the Melville theater every day from 9 am to midnight. Schedule is made to help you to enjoy both CINEMA, & TELEVISION competitions at COLCOA all day long!
COLCOA CLASSICS SERIES (September 24-27)
A unique experience not to be missed! The exclusive screening of digitally restored French Classics in the newly rebuilt Renoir Theatre at the DGA, including an homage to writer/director Agnes Varda and composer Michel Legrand. Probably the best screening conditions ever for these French chef d'oeuvres.
COLCOA SHORT FILMS COMPETITION (September 24-27)
Frustrated when a feature film is shown without a short at COLCOA? We know the feeling…  Don't miss one of the most exciting parts of the COLCOA selection program with all shorts in competition presented together in two parts alternately from Tuesday September 24 to Friday September 27 at 1 pm (Truffaut Theatre). Attend both parts and vote for the COLCOA Best Short Film Award and the COLCOA Best Animated Short Award. Program is available here.
COLCOA RERUNS (September 25-28)
For four days, COLCOA starts with the rerun of a film shown earlier during the week. COLCOA Reruns are at 11:00 am (Wednesday to Friday) and 9:00 am on Saturday.
Films shown are announced at 10:00 pm the evening before the screening, on site in the DGA lobby, on colcoa.org, on Facebook, Twitter and on the COLCOA info line: (310) 289 5346.
HAPPY HOUR TALKS:
From Tuesday September 24 to Saturday September 28, attend our popular panel series presented in association with Variety and followed by a cocktail in the COLCOA Lounge (from Tuesday to Friday). After attending the panel and the cocktail you will have first access to theaters for the next screenings. Panels are at 3 pm except on Saturday (3:20 pm). You must be +21 to attend panels and cocktail.
EDUCATIONAL PROGRAM (APRIL 24-20)
Celebrating 12 years of support of a new generation of Foreign film viewers, in partnership with ELMA, with the support of AATF, the educational program at COLCOA is a free program open to students and teachers. Click here for details.
EVERYDAY INVITATIONS
During the festival, limited invitations are available for some Premiere screenings. Screenings are announced on Facebook and Twitter one or two days beforehand. Join us and follow us!
REDUCED PRICE SCREENINGS
These screenings are not free but with discounted prices: All charged screenings starting between 4:00 pm and 7:00 pm on September 24-27; all After 10 screenings in Truffaut theater on September 24-28. Click here for detailed prices and access to Box office.