North American Premiere | France | 2017 | Drama | 95 min | In French with English subtitles
Directed by: Yvan Attal
Written by: Yaël Langmann, Victor Saint-Macary, Yvan Attal, Noé Debré, Bryan Marciano
Cinematography: Rémy Chevrin
Film Editing: Célia Lafitedupont
Original Score: Michael Brook
Produced by: Dimitri Rassam (Chapter 2), Benjamin Elalouf (Moonshaker), Pathé Production, France 2 Cinéma
Cast: Camélia Jordana (Neïla), Daniel Auteuil (the Professor/Pierre Mazard), Yasin Houicha (Mounir), Nozha Khouadra (the mother), Nicolas Vaude (the President), Jean-Baptiste Lafarge (Benjamin)
International Sales: Pathé Films
Neila is a young Arab woman who grew up in the projects on the outskirts of Paris. She dreams of becoming a lawyer. On her first day at a prestigious law school she's raked over the coals by Pierre, a snooty professor known for his provocative behavior and politically incorrect (i.e. racist) blunders. Their exchange is recorded and goes viral, Pierre is reprimanded by the administration and, to make amends, is strong-armed into coaching Neila for an upcoming courtroom eloquence competition. Cynical and demanding, Pierre may just be the mentor she needs… But first they both have to overcome some serious prejudices. Engaging singer-turned-actress Camelia Jordana and the deft Daniel Auteuil bring spunk, emotion and, indeed, much eloquence to Yvan Attal's polished, inspirational yarn. The film received three César nominations, with Jordana garnering the Most Promising Actress Award.
Yvan Attal | Actor/writer/director Yvan Attal was born in Tel Aviv and grew up on the outskirts of Paris. He launched his acting career in Eric Rochant's Love Without Pity (1989), which earned him a César Award for Most Promising Actor. He has appeared in over 50 films, including Jacques Doillon's Amoureuse (1992), Diane Kurys' Love After Love (1992), Jean-Paul Rappeneau's Bon Voyage (2003), Sydney Pollack's Not The Interpreter (2005), Steven Spielberg's Munich (2005), Dany Boon's R.A.I.D. Special Unit (COLCOA 2017), and Guillaume Canet's Rock'n Roll (2017). His directorial debut, My Wife Is an Actress (2001), starring real-life companion Charlotte Gainsbourg, was nominated for a César Award for Best First Film. His other feature directing credits include Happily Ever After (2004), Do Disturb (2012) and The Jews (2017).
Screening followed by a Q&A with actress, singer Camélia Jordana.
In Association with: Pathé Films, Alliance Francaise de Los Angeles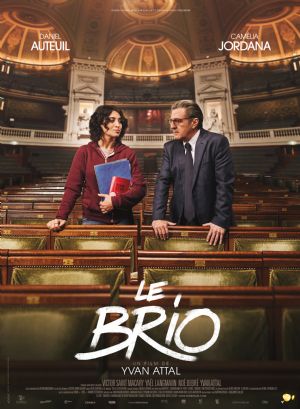 In Association with