STAND UP GIRL (C'est Tout pour moi)
STAND UP GIRL (C'est Tout pour moi)
North American Premiere | France | 2017 | Comedy / Drama | 104 min | In French with English subtitles
Directed by: Ludovic Colbeau-Justin, Nawell Madani
Written by: Nawell Madani, Matt Alexander, Ali Bougheraba, Kamel Guemra
Cinematography: Thomas Lerebour
Film Editing: Jeanne Kef
Produced by: Cyril Colbeau-Justin, Jean-Baptiste Dupont (LGM Cinéma), UGC, France 2 Cinéma, Dum Dum Films, Nexus Factory, Umedia
Cast: Nawell Madani (Lila), François Berléand (Fabrice)
International Sales: Gaumont
The spectacularly talented Nawell Madani bursts onto the big screen as actor, writer, choreographer and co-director of this fictionalized tale of her own incredible journey — from the projects of Brussels to the bright lights of Paris, from hip-hop hoofer to a veritable stand-up comedy star in France. The story opens with Lila, a teenage girl whose dream is to become a dancer. Among the many obstacles on her path, the one that looms largest is her father, Omar, a widowed cab driver with conservative beliefs about what sorts of female behavior are acceptable. Eliciting laughs and tears, the film is a joyous celebration of one woman's determination and boundless gifts.
Ludovic Colbeau-Justin | Co-director Ludivic Colbeau-Justin is an accomplished cinematographer. He directed the TV series No Limit (2013-15), Leo Mattei (2015-16) and Just One Look (2017). Stand Up Girl is his feature directorial debut.
Nawell Madani | Belgian humorist Nawell Madani moved to Paris at 21, became a choreographer, then studied acting at the Studio Pygmalion. She was invited to join renowned French comedian Jamel Debbouze's comedy group and went on to launch a career in stand-up. She has hosted numerous TV shows and created Jam'Girls Comedy, which has launched a new generation of female stand-up comedians. Her one-woman show, C'est moi la plus belge, won the 2015 Globes de Cristal Award, and she appeared in Philippe Lacheau's film Alibi.com (COLCOA 2017). Stand Up Girl is her first starring role on film, and her first film as writer, co-director and choreographer.
In association with Gaumont, WIF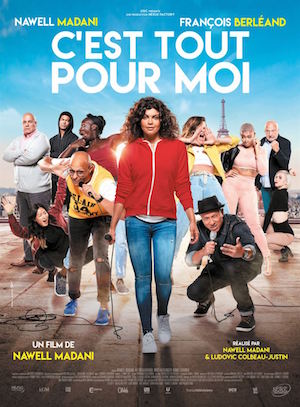 In Association with